Webinar: Information Design Applied to Data Science
Information Design Applied to Data Science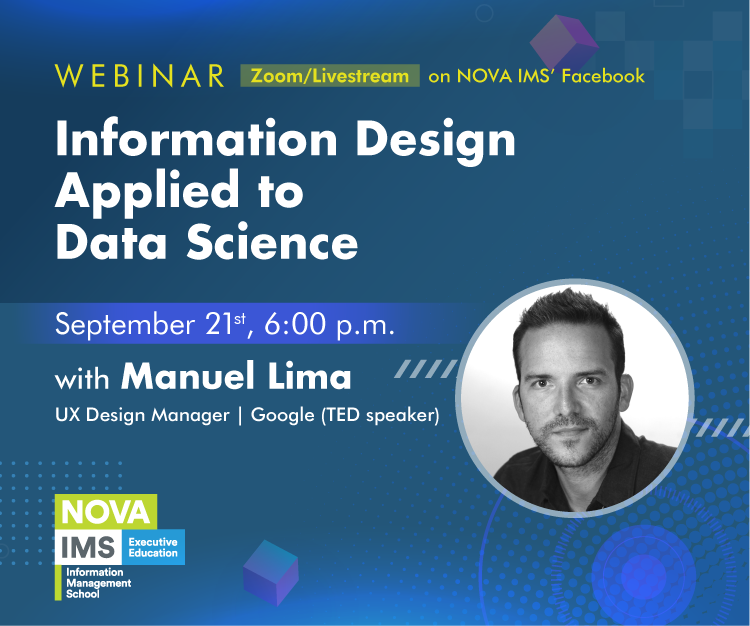 Speaker
Manuel Lima
UX Design Manager | Google (TED Speaker)

Manuel Lima is a Portuguese designer, author, lecturer and researcher based in New York. Manuel is a Fellow of the Royal Society of Arts (FRSA), London, founder of VisualComplexity.com, Director of Design at Google, and professor at Parsons School of Design. Manuel was named by the prestigious American magazine Creativity, as "one of the 50 most creative and influential minds of 2009".
Manuel Lima is an active voice in the field of information visualization, having spoken at numerous conferences, festivals, and universities around the world, such as TED, Lift, OFFF, Eyeo, Ars Electronica, Harvard, Yale, MIT, Royal College of Art, NYU Tisch School of the Arts, ENSAD Paris, University of Amsterdam, MediaLab Prado Madrid. His work has been mentioned in numerous publications and media, including WIRED, New York Times, Science, Nature, BusinessWeek, Forbes, Fast Company, The Guardian, BBC, CNN, Design Observer, Creative Review, Eye, Grafik, Étapes , El País, Visão and Expresso.
With over 12 years of experience in creating digital products, Manuel Lima has worked for Microsoft, Nokia, R/GA, and Kontrapunkt. Manuel graduated in Design at the Faculty of Architecture of the Technical University of Lisbon and in 2005 completed his Masters in Design and Technology at Parsons School of Design, in New York. For this purpose he has received three scholarships, respectively from the Calouste Gulbenkian Foundation, Luso-American Foundation, and the scholarship from the Dean of the Parsons School of Design. During his Masters, Manuel Lima worked with the Siemens Corporate Research Center, American Museum of Moving Image, and Parsons Institute of Information Mapping on research projects for the National Geo-Spatial Intelligence Agency.