NOVA IMS ALUMNI: Networking Dinner
NOVA IMS ALUMNI: Networking Dinner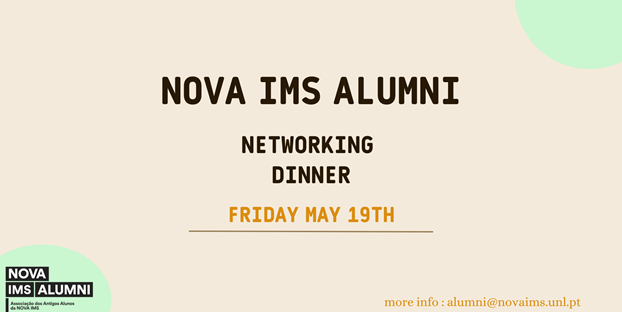 If you are a former student of NOVA IMS and want to meet other alumni with similar interests across different industries, don't miss the upcoming ALUMNI Networking Dinner on May 19th, 2023!
The event will be held at the Golf Spot Restaurant and will start at 8:30 p.m. . The cost per person will be 32.50€, which includes starters, main course, drinks during dinner, coffee, and dessert. This is an excellent opportunity to participate in interesting discussions, share ideas, and explore business possibilities with other former students of NOVA IMS.
Former students of NOVA IMS with at least one complete course at the institution, or mentees enrolled in the mentoring program, are welcome. However, places are limited, so make sure to register as soon as possible at this link. The deadline for registrations is May 12th.
Don't miss the opportunity to expand your professional network and make valuable connections with other former students of NOVA IMS, in an unforgettable night of networking.